In this month's X Report, we take inspiration from an elite sailor's experience of learning, look at the digital language learning landscape, and share Q1 market activity. Each month we share a snapshot of key trends, showcase the stars of today and tomorrow, offer our insight on mergers, acquisitions and fundraising, as well as providing some further food for thought.

Knowing the Ropes - An Elite Sailor's Roadmap to Mastery
The expression to know the ropes is widely believed to have its origins in the mid-1800s, when sailors' knowhow in handling ropes was essential in order to control the ship's sails. The only way a sailor could become competent at this was by gaining hands on experience of the appropriate procedures.
Elite-level sailor, Jake Farren-Price started learning the ropes at the age of 9, but only truly fell in love with sailing aged 12 whilst racing his second-hand Optimist dinghy, "just a small bathtub of a boat". This marked the beginning of an arduous journey to reach the top. With a Master's degree in Engineering Mathematics and a part-time job as a data analyst, Jake now sails for Great Britain, spending the best part of his time out on the water training in his ILCA 7 Laser dinghy with hopes of reaching the 2024 Olympics.
An elite athlete's career is a continuous and adaptive learning process shaped by gruelling physical and mental experiences. Basketball icon Michael Jordan once said, "I've missed over 9000 shots in my career, I've lost almost 300 games. 26 times I've been trusted to take the game's winning shot and missed. I've failed over & over & over again in my life. And that is why I succeed." Jordan's route to mastery is both an inspiration and a lesson in the power of experimentation, failure, perseverance, and resilience to secure a place among the very best. In other words, the power of experience.
As a data analyst, Jake likes to reflect on his own journey as a learning curve, plotting those periods when he's had tough times and felt like he's gone backwards, and marking the times he's battled through them and made good jumps to become better as a sailor. He believes in the need to trust the process and build up who he is by focusing on individual points. "Seeing yourself improve and develop from where you were yesterday is where the real motivation comes from. Focus on that, and the gap will take care of itself", he says.
In sport, as in many other fields, success happens through a combination of opportunity, support, and drive. Mastery, however, is achieved through the process of living through events, a notion famously represented in Benjamin Franklin's quote, "Tell me and I forget. Teach me and I remember. Involve me and I learn." Jake's experience of learning to sail follows the same principle - "Learning really happens when I'm in the boat, and I feel that something is working," he says. "Watching a video is different – you think you can see what is happening when a certain manoeuvre is performed, but every day the conditions can be very different. It's not until you're out on the water that you know what that feels like."
Jake can see a parallel here too with his experience of learning at university. Learning to master a mathematical concept was about being able to adapt and apply it to different problems and scenarios, in the same way he would adapt a sailing manoeuvre to different conditions. The real-life experience gained from trial and error, success and failure is what leads to proficiency. Simply having the knowledge is not what makes a champion; it's knowing how to use and adapt that knowledge effectively - having the knowhow - that sets you apart.
This year, the EdTechX Summit will explore the ability of technology to become a veritable enabler of learning, a tool which can transform knowledge into knowhow through the holistic experience of learning. We can take inspiration from Jake's own experience of learning, leveraging the power of technology as a data scientist to track and learn from his high points and low points. This, combined with his experiential knowhow, allows him to optimise his performance and truly know the ropes.
If you are interested in following Jake's progress to the 2024 Olympics, visit his blog page here. You can also meet him and his boat at the EdTechX June event in London.

The Digital Language Learning Landscape
The digital language learning market is growing rapidly, leveraging increased global access, cost savings and technological advancements to achieve higher levels of language proficiency. The implementation of technology creates an interactive learning environment by integrating sound, voice interaction, text, video, and animation.1 Unlike a traditional classroom, the digital learning environment is self-paced and remotely accessible, allowing learners to achieve learning outcomes regardless of location or time. The incorporation of technology ultimately transforms students from passive recipients to active learners.
The use of artificial intelligence (AI), which helps create a more comprehensive and intuitive learning environment, is becoming common place in the field of digital language learning. Chatbots are being used to support personalised dialogue exchanges and AI is allowing for students to receive customised learning solutions. Companies are also migrating to SaaS learning management systems to provide comprehensive language education, and the growing implementation of language cloud services has been a strong contributor to market growth.
China has been the world's largest digital language learning country in recent years and continuous growth in the market is expected. The growth in China is largely driven by the country's emphasis on English as the language largely used in Chinese higher education and there is a growing demand for English speakers within corporate and government sectors. The Asia-Pacific region is expected to provide ample growth opportunities for the digital English language learning market in the years ahead. It is expected the region will contribute 45% total global market growth and will dominate the market by 2025.2
While digital language learning has shown impressive growth in recent years, there are some obstacles to overcome if it is to continue its current trajectory. The development of language translation and interpretation devices provide a challenge to market players. These devices provide users with instant translation of languages, which ultimately reduces the growth opportunities of the market. The uneven pace of digitalisation further reduces the potential for growth, as market players face obstacles such as lack of funding and the difficulty of creating a viable online strategy. Furthermore, some learners lack the necessary equipment and internet access to engage with the digital language learning environment. It is essential for market players to continuously invest and support access to connectivity, as education technology has the potential to provide learners globally with equitable and lifelong opportunities.
The language learning market has undergone a massive digital transformation, allowing for personalised and adaptive learning. Learners are provided with a high quality and cheaper alternative to traditional education, leading to rapid growth within the market. While there are obstacles to overcome, favourable technological and sociological tailwinds position the digital language learning market as one primed to continue its impressive growth story.
1HolonIQ, 2PRNewswire



M&A Activity >
---
Significant Fundraising Activity >
| | |
| --- | --- |
| | |
| | |

Industry Analysis – Q1 2022 Mergers, Acquisitions and Fundraising
Key Points
Global education deal making is off to a solid start in 2022, with Q1 M&A increasing $2.7bn compared to the same quarter last year, representing an increase of approximately 102%. This increase is largely due to Veritas' $3.1bn acquisition of Houghton Mifflin Harcourt Company. Excluding this deal, M&A activity has been relatively flat year on year. The HMHC acquisition is causing controversy, with some shareholders believing the offer significantly undervalues the company. Shareholder Prasad Phatak has expressed that he does not believe that shareholders are being sufficiently compensated for the significant growth prospects and opportunities the company would enjoy if it remained public.
Vertias will fund the acquisition primarily through debt, adding approximately $1.7bn in borrowings to HMHC's balance sheet which increases the company's debt by nearly 6x.
Veritas were a rare financial buyer in Q1-22, with strategic buyers accounting for the vast majority of deal volume at 92%. Consistent with Q1-21, the United States and Canada were again the dominant geography in terms of M&A volumes, this time accounting for just over half of all deals at 51%. One in four deals were larger than $100m in value and these accounted for 96% of overall deal value at $5.2bn.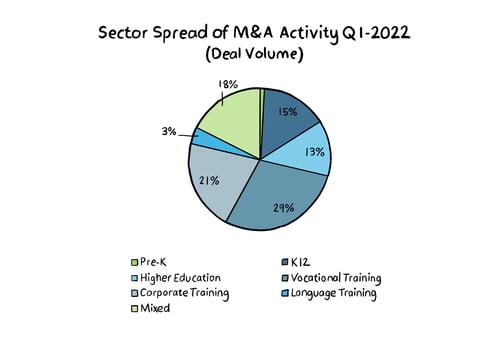 While fundraising has had a slow start to 2022 with Q1-22 fundraising decreasing 27% to $4.7bn, bootcamps are a segment that has seen strong investor interest. According to data complied by HolonIQ, bootcamps had raised $210m in equity funding as of February this year. Despite the year having only just began, this almost eclipses the $280m and $260m raised in the entirety of 2019 and 2020 respectively, and the segment is certainly on track to beat the $750m raised last year. Emeritus, a bootcamp provider that partners with leading universities to provide career-transforming courses, recently raised $350m in debt from Canada Pension Plan Investment Board. The funding is intended to fuel their M&A-based global growth strategy, meaning we can certainly expect to see some M&A activity in the bootcamps space in the coming months.
Despite the slow start in fundraising activity this year, there have been some notable rounds. Byju's raised a further $800m in what is expected to be its final private round ahead of a long-awaited IPO. Investors in the round included BlackRock, Vitruvian, Sumeru Ventures as well as founder Byju Raveendran. Elsewhere, Germany's GoStudent which develops and operates an online tutoring platform raised $340m in a round that included participation from notable investors such as Deutsche Telekom, Coatue, Tencent, Prosus and SoftBank.