In this month's X Report, we look at the future of work in a post pandemic world, the EdTech market in the UK and Jamf discusses how it is time to rethink education. Each month, we will share a snapshot of key trends, showcase the stars of today and tomorrow, provide some food for thought as well as mergers, acquisitions and fundraising.

A Brave New Post-Pandemic World of Work
Carolyn McIntryre, EdTechX
In 1950, Aldous Huxley, author of Brave New World, predicted a massive increase in technological capabilities 50 years into the future that would change the world of work substantially. He also stated, "Work is work, and what matters to the worker is neither the product nor the technical process, but the pay, the hours, the attitude of the boss, the physical environment. The application of [technology] to industry will mean very little. What they will care about is what their fathers and mothers care about today — improvement in the conditions of labor."
We are now facing one of the biggest disruptors of the world of work. The COVID-19 pandemic has left millions of people out of work or furloughed while others have been compelled to work from home or work under new protocols to reduce the spread of COVID-19. This will undoubtedly have a long-lasting impact on the way organisations operate in the future which will in turn affect workers' lives.
The "physical environment" that Audley Huxley alluded to over 70 years ago is one of the key factors highlighted in a recent McKinsey report, The future of work after COVID-19 which assesses the long-term impact of COVID-19 on work in eight economies: China, France, Germany, India, Japan, Spain, the United Kingdom, and the United States. The report suggests that jobs requiring higher levels of physical proximity and human interactions are likely to see the most change after the pandemic with workers having to face unprecedented challenges and acquire wholly new skills. These jobs include professions in medical care, personal care, on-site customer service, and leisure and travel which account for about 70 percent of the workforce. A shift in the geography of work is also highly likely due to a predicted four to fivefold rise in remote work following the pandemic, potentially causing individuals and companies to move away from large cities into suburbs and smaller towns.
Aldous Huxley's belief that the application of technology is of little importance in the face of poor working conditions seems to resonate here. While the pandemic showed that 70% of office-based work could be achieved remotely, it also showed that some of that work is best done in person, and a shift toward remote work could negatively impact workers' satisfaction as well as the effectiveness of the task itself. Establishing a hybrid approach by combining remote and in-person interactions is one strategy currently being devised by employers, thereby expanding access to talent, improving employee satisfaction, and reducing hard costs. Faced with a predicted 12% rise in workforce transitions, employers will need to develop and maintain a cohesive company culture in line with Huxley's "attitude of the boss" to ensure they are able to attract new talent and retain existing workers.Keeping employees connected, providing mentorship and career development opportunities and devising onboarding strategies are also key considerations here.
In the aftermath of COVID-19, the world of work will need to respond to a different landscape, and one that is likely to continue to evolve in the years to come. Employers and businesses devising ways to react and adapt to a changing world of work should perhaps be guided by Huxley's words. His idea that conditions of work are paramount regardless of the technical and societal changes occurring around us appears to be an observation that stands true to this day.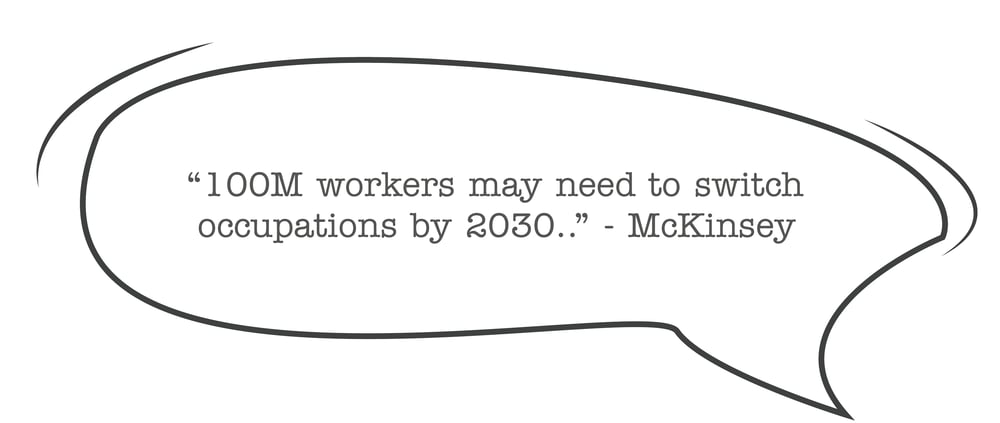 The Tech Impact: It's Time to Rethink Education
Craig Smith, Jamf

Teaching in the time of Covid-19 has not been easy with many disparities in online education being brought to light. When the pandemic struck last year, forward-thinking schools that had previously implemented digitised learning approaches, with each pupil having access to their own device, such as Apple iPads, found the transition to remote learning smoother than others.
Unfortunately, that was not the case for all schools. With little to no time to support students with new devices and train teachers to create engaging online content, these schools suffered setbacks in adjusting to the 'new normal.'
The education sector was forced to rethink learning approaches and overcome several barriers: no connectivity at home, digital literacy training for teachers and the continuation of student collaboration and engagement while in lockdown. Even access to devices, with many having to share parents' laptops, became problematic.
Schools that have realised the benefits of technology in the new normal are now forming new missions to digitally transform their classrooms for good. Central to this is the investment in Apple Enterprise Management solutions to help reduce the burden on staff, freeing them to focus on new methods of teaching. Zero-touch deployment, enrolment and provisioning of app and devices can all take place over-the-air while enhancing native security tools.
As more schools take advantage of technology innovations, we can expect to see a shift to more flexible, personalised learning. Using an enterprise management solution, teachers can hold a 1:1 breakout session during the online class to help a student who might be struggling; they can also self-sufficiently deliver apps and files on students' devices.
Teachers have taken a pedagogical role in helping to drastically transform and stabilise student learning in the new normal. Digitally savvy teachers have become 'teacherpreneurs,' helping their peers to blend traditional with new digital approaches that focus on personalised student engagement, peer to peer learning and 1:1 knowledge sharing.
To find out where education is heading next, register to attend our panel discussion on the 18th of March at 10:30am GMT.



M&A Activity >
---
Significant Fundraising Activity >
| | |
| --- | --- |
| | |
| | |

London and the United Kingdom at the Forefront of the EdTech Revolution
Household names like Google, Amazon, Microsoft and Zoom have been key to the transition to online learning brought about by the Coronavirus pandemic, although parents and teachers have also leaned on much smaller start-ups to support them in creating a virtual classroom environment. Many of these start-ups are UK-based, which comes as no surprise given that the UK is leading the way in European EdTech VC investment. The country has received more than $1bn in investment since 2014, more than the next three countries combined, and London specifically has received approximately two thirds of the UK's investment, making it the only European city among the top 10 cities for EdTech investment globally. Not only is London among the top cities for EdTech investment, it is also among the top cities by deal count with over 270 deals concluded since 2014.
A few of the key reasons why the UK is so far in front of its European counterparts are discussed below.
High digital penetration in a large school and university market
The UK's classrooms are among the most connected in the world. With devices and smartboards being commonplace in many classrooms, teachers are able to easily adopt the new digital learning tools developed by entrepreneurs. There is also an increasing desire for flexible, blended learning among university students and professors. A key example of this technology is Sparx – an adaptive technology platform that helps teachers plan, review and deliver mathematics lessons and homework to students. Since 2012, Sparx has raised £50m across three funding rounds which has included participation from venture capital firm Oxygen House.
Strong tradition of leading universities
The UK is home to some of the globe's top universities. Many of these universities are looking to expand their reach both domestically and internationally, and the adoption of EdTech is an important mechanism for these universities to achieve this goal. The reputation and expertise of universities and entrepreneurs respectively has created a symbiotic relationship between the two, resulting in an EdTech boom.
FutureLearn is an example of a UK EdTech company that has developed relationships with leading UK universities and helped them expand their online reach. They have partnered with the likes of King's College London, University College London and the University of Warwick to develop online courses of varying length and subject matter and in 2019, Australian-listed SEEK Limited acquired 50% of FutureLearn for just over £50m.
UK Government support for EdTech
The UK Government is a well known proponent of Edtech, and in 2019 launched their EdTech strategy. The strategy was implemented with a view to reduce teacher workload and boost student outcomes through the adoption of technology in classrooms. The strategy unites educators and businesses, ensuring that the solutions developed meet the demands of educators and places the UK at the forefront of EdTech development. The strategy was launched alongside £10m in funding for schools and colleges, designed to encourage the uptake of new technology.
With significant investment already made into EdTech and an ecosystem set up for it to prosper, the UK is certainly positioned as an exciting geography to keep an eye on as we progress into 2021 and gain a clearer picture of the lasting effects of the pandemic on education.