In this month's X Report, Bruce Daisley discusses resilience training in the workplace, we look at measuring the impact of EdTech, and explore the leadership skills market. Each month we share a snapshot of key trends, showcase the stars of today and tomorrow, offer our insight on mergers, acquisitions and fundraising, as well as providing some further food for thought.

We've been sold a fake version of resilience - it's time to set the record straight.
Bruce Daisley

Sometimes our desire to achieve something is so intense that we're willing to overlook the fact that the products we buy to fulfil our desires don't work. In business, nothing occupies this space as resolutely as resilience training.
In the workplace, faced with soaring levels of burnout and a workforce who some interpret as being unable to cope with the rigours of the job as breezily as their forebears might have, many leaders reach for the R word. The growing demand that 'we need some resilience training' has led to a surge in the number of wellbeing organisations offering it. But as I spent two years writing a book on resilience, I was struck by the number of times people told me that the resilience course they were sent on did nothing for them. And we can say with certainty that these courses don't work because, in peer reviewed papers analysing the results of these interventions, the creators themselves have been forced to concede that they don't achieve what they set out to do. 'If you mention resilience round here you'll get thumped,' a doctor at a busy NHS hospital in north London told me. The team had been offered a course on coping instead of more resources and they'd seen right through it.
But the demand for resilience courses keeps coming - and not just from office-based employers. Two of the biggest customers are schools and the military. Much of the training that serves these demands comes from what I term the "Resilience Orthodoxy" and is based on the work of psychologist Martin Seligman. In the noughties, while creating a resilience program for schools, he was approached by the US Army and commissioned to create a program to deal with the sorry state of post-service lives. Science writer Jesse Singal estimates that the budget for the implementation has been in excess of $500m. If your workplace has implemented resilience training, it is almost certainly based on Seligman's programs for schools or the armed forces.
However, commentators in the American Psychological Assocation journal observed that 'Comprehensive Soldier Fitness is not a panacea for anything ... The program will not bring about an end to low base rate behavioural problems'. Clearly, the word-of-mouth reputation of the training was no better; an analysis completed by six senior military leaders and published in Military Psychology in 2013 reported that when the Comprehensive Soldier Fitness course was made voluntary, no one at all signed up to attend.
The strange paradox of this training is that it misses the origin of resilience that sits right before our eyes. As training programs seek to invigorate a trait of individual resilience in weary workers, we might look at the people of Ukraine - how might such fortitude come about? The answer lies in the words of respected psychologist Alex Haslam, "Resilience is something that when you look at it in the world, it isn't a manifestation of individuals as individuals. Resilience is something that only occurs in and to groups." This is such a penny-drop realisation, backed up repeatedly by endless empirical evidence that we might wonder why we ignore it. True resilience lies in a feeling of togetherness, that we're united with those around us in a shared endeavour.
Our desire for quick fix resilience is hiding the true origin of the strength. In a moment that we're all reflecting on the unforeseen consequences of working apart from each other, the loss of a sense of togetherness on our resilience might be the biggest impact of all.
Bruce Daisley is a workplace culture consultant. His new book, Fortitude, about how we think about resilience incorrectly is out now.

Show me the Impact: Measuring the Impact of EdTech


Educational technologies tend to generate a lot of hype, but how can we assess how impactful they are? A panel of experts* joined us at the EdTechX summit last June to discuss the importance of measuring impact and what metrics can be applied to do this. Here are the key takeaways…
Measuring impact in education is about determining if learning is actually happening. This is achieved by collecting the appropriate evidence needed so companies can make claims that are ethical about their products. However, education is context-based with a diversity of learners and multiple stakeholders, making it difficult to determine one universal metric that measures learning.
Measuring impact - Does this product work? For whom and in what context?
Research conducted by Goldstar Education found that the most trustworthy and impactful companies had a combination of six dimensions or "superpowers" covering areas such as business culture, mindset, the ability to pivot, and an understanding of research. Goldstar Education Founder, Anissa Moeini advised startups to start the process by conducting an assessment based on these dimensions. "This will help you learn which areas you need to improve on," she said.
A key part of achieving impact in education is to ensure that the education we deliver is effective. "All learners vary and everything is context dependent in education", noted Chief Strategy Officer at Digital Promise, Vic Vuchic. Contesting the use of Randomised Controlled Trials in the evaluation of learning outcomes, he advocated using research-based design instead: "Making sure you are intentional about your learning theory, that you know the research behind that learning theory, how you design that into your product, and then what your intended impact is".
Communicating on impact - The "know like trust" (KLT) factor
When communicating on impact, Becky Sage, Director of Acceleration at Educate Ventures Research recommended the "know like trust" (KLT) approach, a marketing concept based on the principle that people do business with those whom they know, like, and trust – be known for your brand value (who are the people that are going to be impacted?), be likeable (share stories that bring to life the impact that you're claiming), and be trustworthy (provide evidence that your product works).
Social impact and financial performance are intimately correlated
From a VC perspective, Marie-Christine Levet of Impact VC fund, Educapital highlighted a correlation between financial performance and impact: "Good EdTech companies will perform well financially. And if they perform well financially, they will create impact," she explained. The fund looks at three criteria for impact – reach, inclusion and learning outcome – the latter being the hardest to measure. "To make this process easier," she said, "the research world and startups should start to communicate better."
*Thank you to our panellists Anissa Moeini, Founder & CEO at Goldstar Education, Marie-Christine Levet, President and Co-Founder of Educapital, Vic Vuchic, Chief Strategy Officer at Digital Promise, Becky Sage, former Director of Acceleration at Educate Ventures Research and Elyas Felfoul, Director of Policy Development & Partnerships at WISE (Moderator)

Access this panel session recording here
*To access the recorded sessions, registered ticket holders can log in using their registered email address. Non-ticket holders can purchase the 2022 OD Content Pass to access all the session recordings from the 2022 EdTechX Summit.



M&A Activity >
---
Significant Fundraising Activity >
| | |
| --- | --- |
| | |
| | |

Industry Analysis – Leadership
Key Points
The Leadership industry has seen increasing growth and prominence in the investment world post-COVID-19. The industry's growth is being driven by numerous trends and the industry has a variety of business models to serve different spectrums of need. The fastest growing business model is expert-driven, technology-enabled coaching solutions with notable examples, including BetterUp and CoachHub.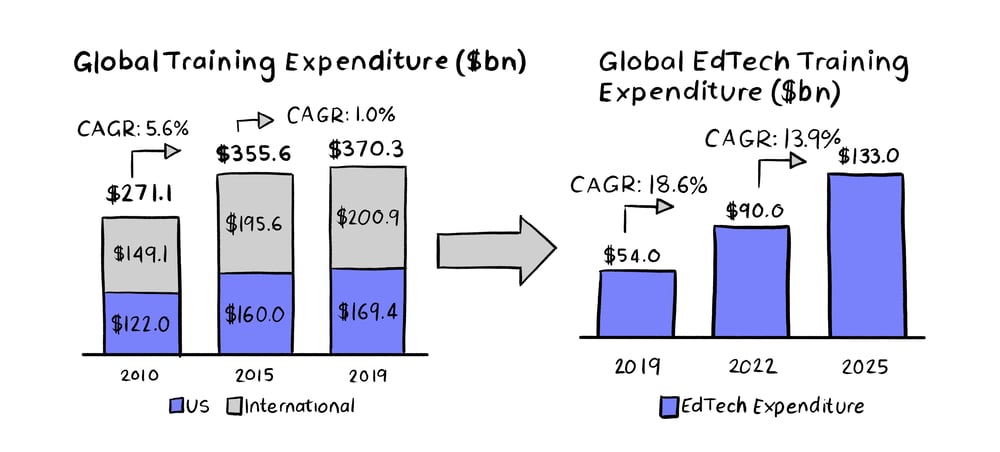 Global Leadership Sector Growth
Per employee spend has grown from ~$1,200 in 2011 to ~$1,300, with appetite for both physical and digital

Despite the $370bn spent on leadership training, only 20% of trainees are estimated to improve their performance. Moreover, 77% of organisations report that they have leadership deficits

95% of learning organisations are planning to at least maintain, if not increase, their current level of investment into leadership development
Principal Trends
Growing class of middle managers who have increasing amounts of disposable income (average manager salary in the US is ~$90,000) and ambition want access to expertise to enhance their careers

'The Great Resignation' has forced companies to work harder to retain their staff. The switching cost of employees leaving is growing against the cost to hire, encouraging employees to be proactive about career growth. It currently costs $100,000 to hire and train a new employee as opposed to $5,000 p/a to upskill a current employee

Increased emphasis on multi-tasking and productivity is adding further pressure on employee wellbeing and health, creating a crossover of leadership spend into the $45bn self-improvement market
Business Model
The ubiquity of leadership content, driven primarily by online offerings, is lowering the cost to students. Differentiation is being developed by focusing on outcomes, creating communities or specialising content

Traditional MBA brands retain most value, including in online offerings. Growth to compete is expected in employer / B2B channels

Subscription platforms (such as BetterUp and CoachHub) offer access to expertise across middle managers, executives and boards, overtaking freelance markets for leadership skills
Leadership Funding
Funding for the Leadership industry hit record highs in 2021 with 30 deals completed, raising almost $1bn in funding with BetterUp's Series E raise of $339m being the largest single raise. Adjacent to this surge of funding, consolidation is starting to emerge within leadership either from emerging industry giants (such as BetterUp and CoachHub) and global companies (Workday and Skillsoft) looking to add leadership into their businesses' capabilities.
Select M&A Transactions from 2021 – 2022 Include:
Skillsoft's $22m Acquisition of Pluma

15Five's $50m Acquisition of Emplify

Giift's $70m Acquisition of Xoxoday

Workday's $700m Acquisition of Peakon

Headspace's $3bn Merger with Ginger
Over the next 12 - 24 months, we expect to see further M&A consolidation in the market. Companies who raised successfully in 2021 will have plenty of capital to deploy on acquisitions. Moreover, companies in adjacent industries, such as HR Tech and Consulting, will continue to look to add leadership into their portfolios to extend their offering for clients. Due to the macroeconomic climate, fundraising for companies will be harder. However, the lack of leadership within organisations and the desire for young workers to try a range of jobs are not short-term problems and need consistent attention from employers. Therefore, companies operating in the leadership skills sector should still be able to grow strongly and raise capital.
For the full IBIS Leadership Report, please contact hf@Ibiscap.com
Sources: CapitalIQ, Tacxn, IBIS Capital, Statista, Forbes, Apollo Technical, EdTechX Global Report, Advantis Global, McKinsey